AWARDED BY COMPUTERBILD:
"Top Shop 2021" quality seal for Natura Vitalis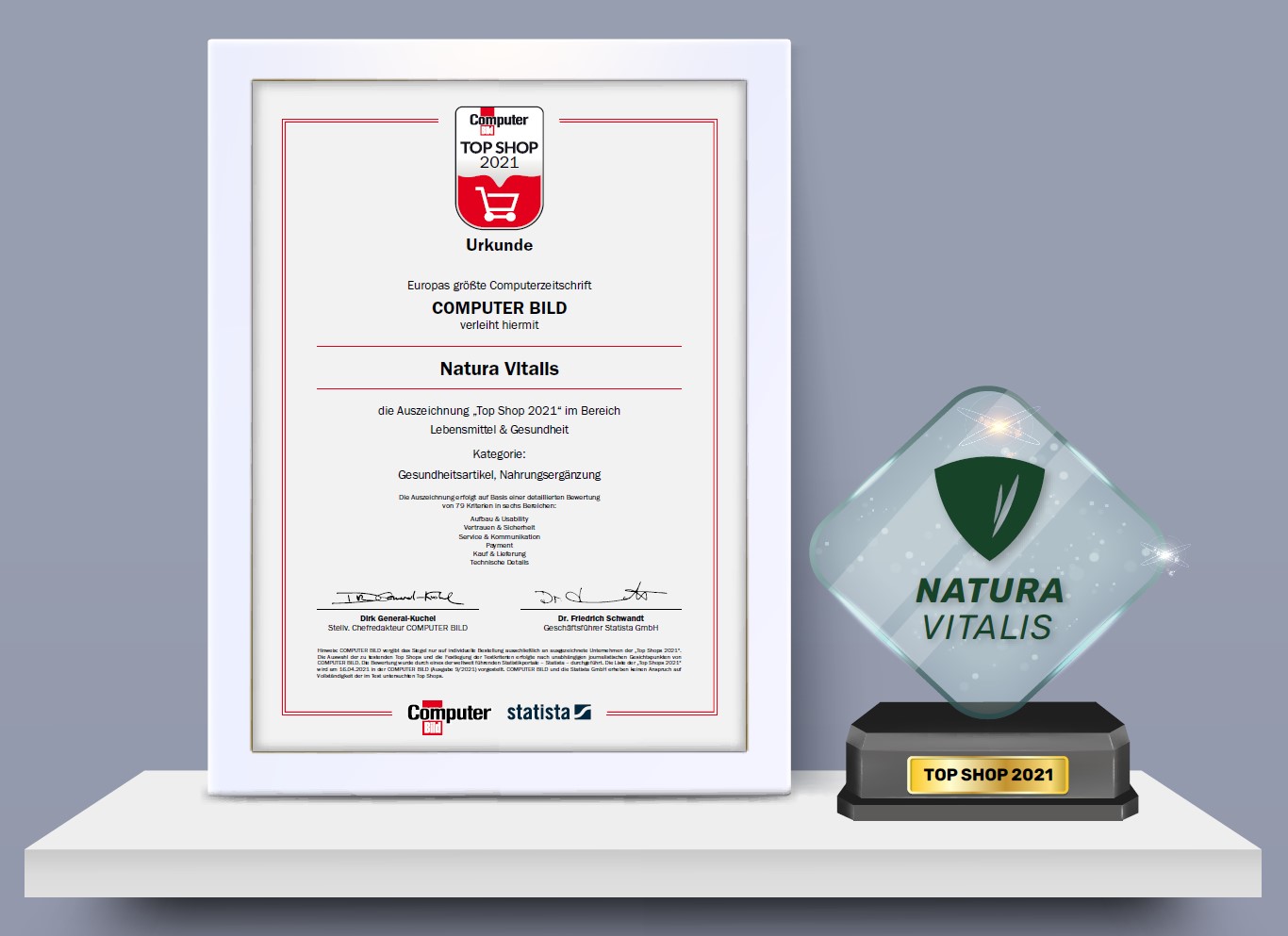 Internet shopping is becoming more and more important. According to the magazine COMPUTER BILD and the statistics service Statista, the Essen-based nutritional supplement specialist Natura Vitalis, with www.naturavitalis.de, is one of the best online retailers in Germany in the area of "Food & Health".
For the eighth time in a row, the magazine COMPUTER BILD and the statistics service Statista have scrutinised German online shops in an elaborate, multi-stage test procedure. The result: The best 750 online shops were awarded the quality seal "Top Shop 2021". Natura Vitalis was also chosen with the award and thus belongs with the website www.naturavitalis.de to the best online retailers in Germany in the area of "Food & Health".
"We are very happy about this exciting and important award. We do everything to ensure that our customers find the best service with us at all times and receive the information and products they really want to promote their health. This award from such renowned partners is both confirmation and an obligation to continue on our path," says Natura Vitalis founder Frank Felte. The company from Essen has long been considered one of the leading manufacturers of natural food supplements and focuses on continuous further and new developments of health products on a scientific basis.
The basis for the award as "Top Shop 2021" was the evaluation of 79 criteria in six areas: "Structure & Usability", "Trust & Security", "Payment", "Service & Communication", "Purchase & Delivery" and "Technical Details". In the survey, a distinction was made between subjective features (respondents' assessment of the shop in terms of appearance, clarity, etc.) and objective features (checking whether delivery times, overview of payment methods, etc. are indicated on the website). The objective features were checked by 15 independent testers. According to COMPUTER BILD and Statista, this resulted in a total of 111,153 test points. Online panelists evaluated the subjective features of the start and product pages of each website. On average, each start and product page of the relevant online shops was evaluated 17 times.
For Frank Felte, the award with the quality seal "Top Shop 2021" is another building block in the successful development of Natura Vitalis. "We are continuously expanding the product range and creating new formats for health information. These include, for example, live events with health experts and product presentations where viewers can ask their questions directly on the air. Likewise, important health information is communicated via social media channels and the website. In this way, we contribute to health education in Germany and highlight the value and importance of high-quality food supplements and natural vital substances."

The award is especially important with regard to the growing importance of internet shopping, he said. 58 percent of all respondents consider online shopping more convenient, 57 percent appreciate the cheaper prices and the larger product selection. Natura Vitalis wants to offer these people optimal services to fulfil their wishes for online shopping experiences, emphasises Frank Felte.

Natura Vitalis also regularly receives awards at an international level. In 2019 and 2020, for example, the company received the award for "Most Innovative CBD Supplements Manufacturer" from the independent information platform Global Health & Pharma from England. Previously, Natura Vitalis was named "Best Nutritional Supplement & Cosmetics Provider - Europe" and "Best Natural Healthcare Supplier - Europe & Recognised Leaders in High Quality Nutrition Supplements".
Natura Vitalis is consistently developing its range of high-quality nutritional supplements and natural vital substances. Frank Felte clearly formulates Natura Vitalis' claim to actively shape the future of the healthcare market. This includes dealing with innovative ideas and products and using them for the benefit of the customers.

Press contact
Natura Vitalis GmbH
Adlerstrasse 29
45307 Essen
Prof. Dr. Patrick Peters
mobile 0170 5200599
E-mail patrick.peters@naturavitalis.com
Photo (Source: Natura Vitalis, reprint free of charge)
Frank Felte, founder of Natura Vitalis
* This text may contain translation errors as the translation was performed by an online translation tool.