IMPORTANT FURTHER DEVELOPMENT: DIGITAL PREVENTION AND HEALTH PROMOTION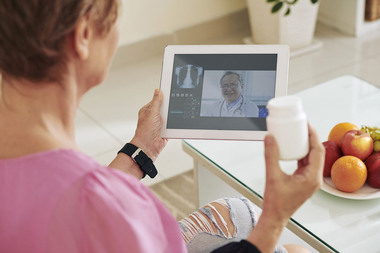 The health care system is becoming increasingly digital - and now preventive health care is also to become more digitalised. The list of digital health solutions whose costs are covered by statutory health insurance funds is becoming more diverse. Digital prevention and health promotion in the sense of the "Guidelines for Prevention" are now being supported more strongly by the health insurance funds.
Probably everyone knows by now how important prevention is for health. The Federal Ministry of Education and Research, for example, states: "Successful health research, preventive lifestyles and environmental factors contribute to people growing older and staying healthy for a long time. They also influence the development and course of many common chronic diseases. A balanced diet and a healthy amount of exercise can prevent cardiovascular diseases and diabetes. It is important to use this potential effectively for the benefit of the people through preventive measures, for example through concrete recommendations for exercise and nutrition. Preventive and health-promoting measures should motivate the various population groups - young and older people, women and men, working people and retired people - to adopt health-conscious behaviour in a way that is appropriate for the target group and encourage them to shape their environment and lifestyle in a way that promotes health."

Now, health prevention is also to become more digitalised. The list of digital health solutions, the costs of which are covered by statutory health insurance, is becoming more diverse: "In future, it will be much easier for manufacturers of digital prevention offers to receive funding. These include exercise training, nutrition programmes, smoking cessation and stress management. Their aim is to prevent or reduce the risk of illness," says an article in "Handelsblatt Inside".

Artificial intelligence in digital prevention
This is an important development: the costs for digital prevention services have not been covered for the most part up to now. The guideline for digital health applications (DiGa), which specifies the criteria for reimbursement of an "app on prescription", explicitly excludes prevention, for example. Therefore, the "Leitfaden Prävention" of the GKV-Spitzenverband has now also been updated. The new chapter "Digital Prevention and Health Promotion" states: "Digital prevention and health promotion in the sense of the 'Guidelines on Prevention', like all other prevention and health promotion services, aims to prevent and reduce the risk of illness and to promote self-determined health-oriented action on the part of the insured. According to the guideline, in digital prevention and health promotion services, digital technology takes over essential functions that are typically performed by people - i.e. course instructors - in conventional, i.e. non-digital prevention measures. Artificial intelligence or machine learning can also be applied here."

In the sector, this further development is seen as positive. "With the new regulation on digital prevention offers, you can clearly see the handwriting from the DiGa sector," Anne-Sophie Geier, Managing Director of the German Association of Digital Health Care (SVDGV), tells "Handelsblatt Inside". And the specialist portal goes on to say: "Unlike digital health applications, the costs for preventive services are only covered by the health insurance companies on a pro-rata basis. The amount of funding for digital applications will be based on that of analogue services, according to health insurance circles. This also eliminates the pricing process between manufacturers and health insurance associations, as is necessary with DiGa". Anne-Sophie Geier further emphasises: "We all want to prevent diseases from occurring in the first place and at the same time to further develop our health system in line with the times. The statutory health insurance funds are now paying towards these two goals and are expanding the prevention guide to include the chapter on digitalisation."

Telemedical care for chronic heart failure
Speaking of prevention, the value of digital services has already been proven, even for serious illnesses. Patients with chronic heart failure or advanced heart failure can benefit from telemedical care: Telemonitoring, i.e. digital monitoring from a distance, reports the Society of Cardiology, Heart and Circulation Research, can reduce mortality by about one third. In the case of these heart diseases, doctors recommend close monitoring of health status. In telemonitoring with clearly defined minimum requirements, data such as heart rate and heart rhythm, weight and blood pressure are not only analysed by the doctor, but also by the telemonitoring centre. This means: telemedical care reduces the mortality rate in patients with heart failure or cardiac insufficiency by about one third. Remote monitoring can help to quickly detect decompensations.

* This text may contain translation errors as the translation was performed by an online translation tool.